As many of you who know me are probably well aware, the rise in oil prices over the past few years has not bothered me. (Warning – here comes another list.) This is primarily because: A) I hardly ever drive, B) Gas is not nearly as expensive here as it is in Great Britain, and C) My hope is that expensive gasoline will force people away from gas-guzzling SUVs and towards more energy efficient vehicles and transportation modalities.
I have heard quite a bit from the media recently about Iran, oil hitting $68/barrel, blah blah blah…and then I found this most excellent graphic at http://money.cnn.com :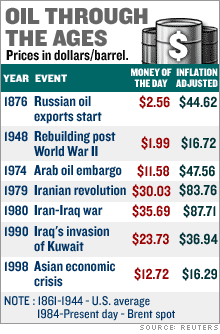 I especially like that the price of a barrel of oil is adjusted for inflation so that I can relate to how much of a burden the price really was. I am discounting the 1864 value since these folks were not dependent on automobiles, but the 1979-1980 value is interesting, isn't it? Oil has been (when adjusted) higher than $68/barrel before with the masses panicking, and things cooled off. I expect the same may happen this time around as well. Then, perhaps the panic will be over how oil stocks are "tanking." Too soon to tell, though.